All About Pickleball    Copyright 2020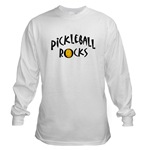 Get Your FREE "Pickleball Guide"

Includes Pickleball Rules

FAQ:   This is THE most asked question we get:

What paddle should I buy?

My answer is always the same.  Since it will be a very small one-time investment, get a good one.   WHY?  Because pickleball is won by getting to the net.

Once you get to the net, points are won on quickness, therefore the lighter the head of the paddle, the quicker you can be. 

I personally use Gearbox paddles and love them.   - Rocket